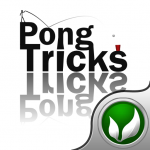 Pong Tricks was once described, by a mystic, as "the essence of golf, dipped in honey!" Your play takes place in a variety of cool, challenging locations. You only have one shot at a plastic cup, and should you miss it… well, you get back on that horse and try again!
Take your beer pong skills to the next level! This is the first game ever on any platform anywhere that actually tests your pong trick shot skills in a full physics supported 3D environment.
You control all angles that your ball will slice through the Pong Tricks 3D environment, as well as the power of the shot. Extra camera's are strategically placed to allow for a closer view of every beer cup before or even during your shot. You can either bounce off anything you want or just go for a hole in one. If your not already throwing ping pong balls off the walls and furniture in your house, this will get you doing it!
Features:
*Includes over 30 cup placements
*7 completely unique interactive 3D environments to test your skills in
*3 difficulty levels to keep challenge
*Realistic physics and sound effects
*Unique music scores for every scene
*Scoring, Achievements, Online Social Gaming support from OpenFeint (http://openfeint.com/)
*Solid Tutorial
*Satisfyingly Addictive Game Play
*The opportunity for you to refine your skills and become a master… of Pong Tricks!
See more at PongTricks.com